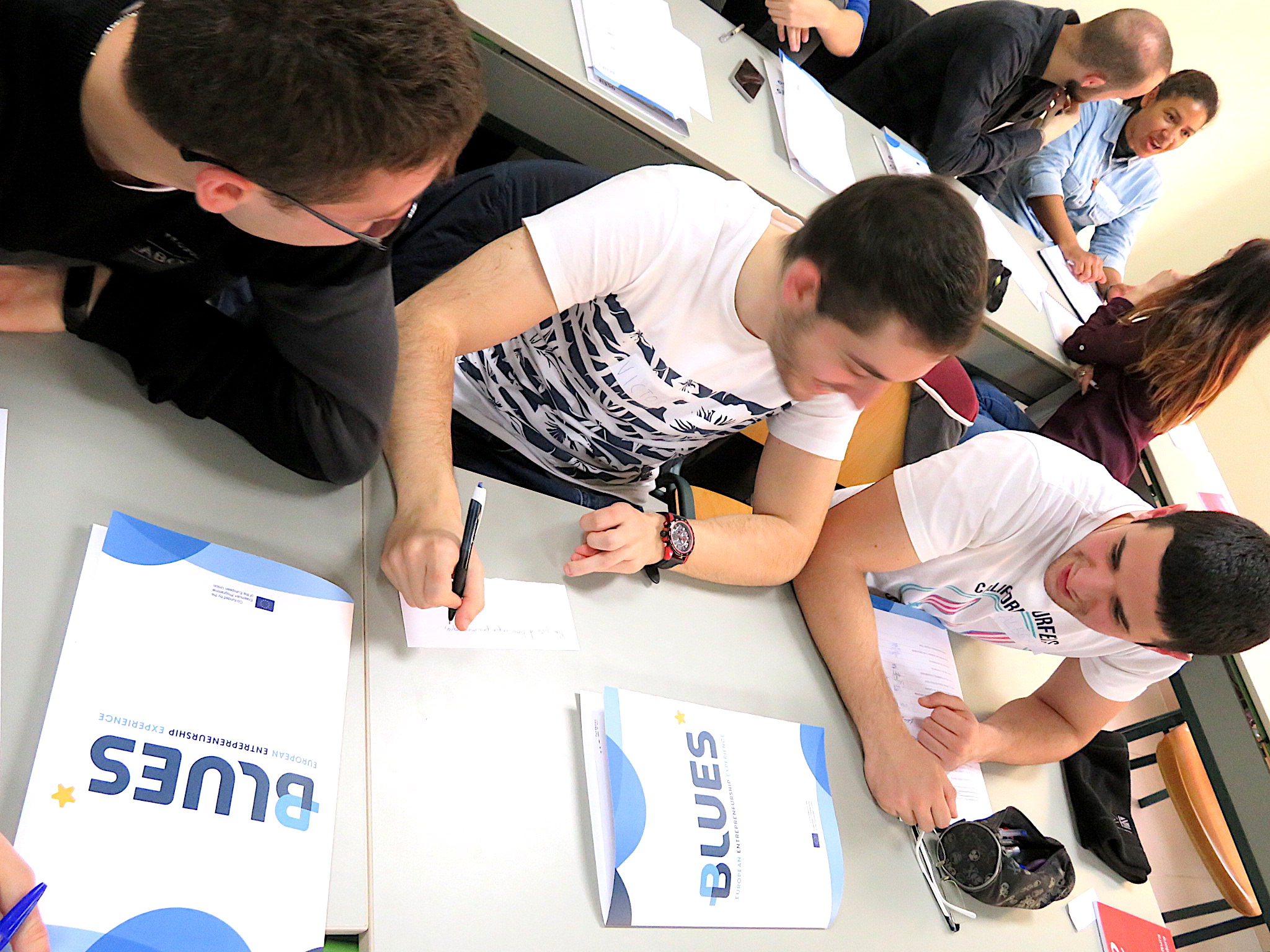 20 May

BLUES FACE-TO-FACE ENTREPRENEURSHIP COURSES, ALREADY IN FULL SWING

Students in Spain, Italy and Portugal are attending sessions with teachers, business professionals and mentors to develop their entrepreneurial skills while working in groups to turn their own business ideas into business projects.

This course will not only promote entrepreneurship but also will be the test bench for BLUES Programme methodology and teaching materials. 

Santander, May 20, 2019

BLUES programme is now testing the innovative methodology developed by the 10 project partners -five European universities, together with business organisations-, to teach entrepreneurship to university students. The aim of this phase is not only to equip young people with the necessary skills to enter the current job market but also to assess the syllabus and materials produced, in order to get feedback, review the methodology and improve it. The results of this assessment will contribute to give shape to the final teaching package that will be made available globally to any institution keen on promoting entrepreneurial skills amongst students from all disciplines.

The pilot face-to-face course is a continuation to the initial phase, the MOOC What, Why & How. Your Road to Entrepreneurship, an online course where the students learn the basics of entrepreneurship and get acquainted with the concepts of business analysis and innovation, strategic management, organisational design, market competition strategies, leadership and team management. This online experience is available free of charge through the MiriadaX platform until 9th June 2019, and it is a certified course accredited with 1 ECTS credit point by LUT University.

The face-to-face course focuses on the practical aspects of entrepreneurship: The students give shape to the concepts learned in the MOOC by applying their acquired knowledge to the development of a business project in teams. They also learn, through a combination of lectures, visits to business incubators, sessions with mentors and workshops, how to build teams and set up a business. Experts in business law, finances and communications help them realise the practicalities of the day to day running of an enterprise.

The pilot courses are already taking place at University of Cantabria in Spain (who leads the project with CISE, Santander International Entrepreneurship Centre), University of Perugia in Italy and NOVA University in Portugal. It will also run at the University of Ljubljana in Slovenia.

All the experts delivering the course have attended sessions with the programme managers in order to offer a compact, comprehensive learning experience that is being assessed by the students in each session.

After the next phase of analysis, review and writing of the final teaching materials, there will be a final Staff Training event in Spain, where experts from all participating partners will be updated on the BLUES methodology.