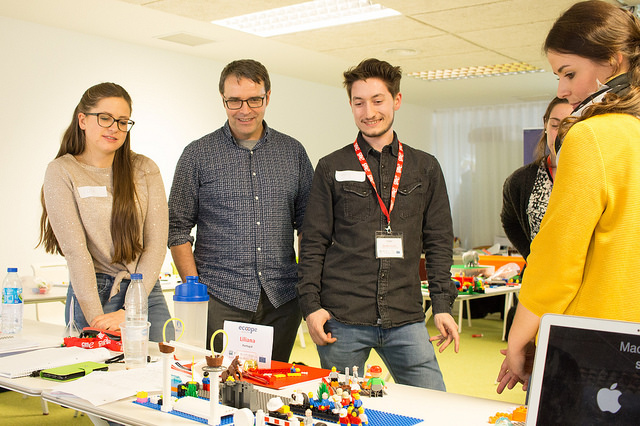 31 Ene

BLUES PROJECT LAUNCHES INNOVATIVE ENTREPRENEURSHIP COURSE IN FOUR EUROPEAN COUNTRIES

BLUES offers a free pilot training in Europe based on real contact with entrepreneurship experts and the business world of several countries

Within the Erasmus+ programme, the project aims to improve European youth's entrepreneurial competences, for them to be able to fit the current labour market

Santander, January 31, 2019

BLUES, an initiative within the ERASMUS + programme, is launching  an innovative pilot programme that combines a digital -through the MOOC "What, Why & How. Your Road to Entrepreneurship"– and a face-to-face training, to be simultaneously implemented in four European Union countries.

BLUES pilot programme aims to develop the entrepreneurial competences of young people in Europe, from all fields of study, giving them transversal skills that will allow them to better adapt to the actual labour market demands.

 Free training, open and online

Through the MOOC "What, Why & How. Your Road to Entrepreneurship", BLUES launches the first phase of its training. This free course, already available to anyone interested and which requires no previous knowledge in entrepreneurship, will be available through the MiriadaX platform from March 4 to April 14, 2019.

Based on the "blended-learning" methodology, throughout six audiovisual modules in English and with subtitles, complemented by readings and discussion, international experts from five different countries will introduce participants to the keys of the startup world and agile methodologies.

 Blended-learning: the face-to-face experience

One of the great novelties offered by BLUES is the fact that its second phase, the "face to face experience", allows students to complement the online course with workshops and face-to-face training by experts, leaders in the world of entrepreneurship and business. This second phase will take place simultaneously at the University of Cantabria (Spain), University of Perugia (Italy), University of Ljubljana (Slovenia) and University Nova of Lisbon (Portugal) during April and May 2019, and there are almost 90 available places for the students who complete the initial digital training.

During several sessions and through practical work in teams, participants will be able to delve into the different fields of entrepreneurship and know the actual business context.

Not only will completion of both phases give participants a very complete introduction with different European perspectives on such useful topics as innovation, leadership and team management, business analysis, etc., but will also allow them to interact with entrepreneurs and local institutions, taking their learning to the next level.

For further information and registrations, please visit eblues.eu

About BLUES

The BLUES (Blended-Learning International Entrepreneurship Skills) programme started last October 2017. The project was born within the Erasmus+ European programme framework and is being carried out with the collaboration of partners from five countries: Spain, Italy, Portugal, Slovenia, and Finland. This ambitious initiative has been financed by the European Commission with a budget of over €270,000 and will also involve local business representatives.

The project relies on the coordinated efforts from the University of Cantabria, Santander International Entrepreneurship Centre (CISE) and the business association CEOE-CEPYME Cantabria in Spain; Nova University of Lisbon and Madan Technological Park in Portugal; the University of Ljubljana and the Chamber of Commerce and Industry of Slovenia; the University of Perugia and Terni Chamber of Commerce in Italy, and Lappeenranta University of Technology (Finland).